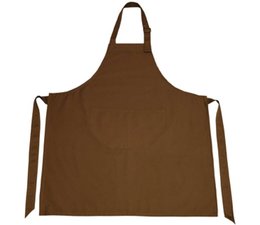 Professional kitchen aprons available in 13 different colors and storage box
Choose from 13 different colors professional kitchen aprons: black, red, white, yellow, dark green, purple, gray, charcoal, brown, bordeaux, cobalt blue, dark blue and beige.
Delivery time: approximately 2 to 3 business days (plain) when printing approximately 1 to 2 weeks after your order!
Reviews
No reviews found...
This professional kitchen aprons can be longer or shorter in the neck and continue even after frequent washing of beautiful color. And storage box on the front.
Quality: 65% Polyester / 35% Cotton
Size: 75 (w) x 85 (h) cm
Minimum order quantity: per piece or multiple pieces
Embroidery and printing at extra charge!
Request a quote if you:
An embroidery or require printing;
more than 100 pieces wish to order;
more information about these kitchen aprons.
No specifications found