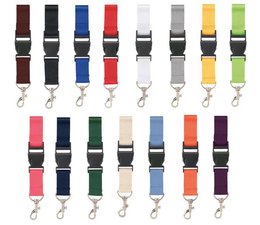 With us you can buy cheap lanyards in 15 different colors, and order directly online!
Buy Cheap Lanyards? Cheap Lanyards in 15 different colors! With us you can buy cheap Lanyards and order online! These cheap lanyards, we can print for you with an excellent logo, logo and / or advertising text, que ...
Article number:
M-7000-ASS
Delivery time: approximately 2 to 3 business days!
Reviews
No reviews found...
Lanyards available in 15 different colors
Ribbon width 2.5 cm, with carabiner and clip closure.
You can choose from 15 colors:
burgundy (bordorood)
black (black)
royal blue (cobalt, royal blue)
red (red)
white (white)
gray (gray)
yellow (yellow)
light green (lime, lemon, lime)
orange (orange)
purple (purple)
pink (pink)
navy (dark blue)
bottle green (bottle green, dark green)
natural (off-white, off-white)
baby blue (light blue)
All Lanyards are plain and order in any color. Please choose the desired color lanyards in the appropriate column.
These lanyards we can excellently printed with a logo, logo and / or text, call info!
Max. print format on both sides of 22 x 1,7 cm
Ask for a quote if you:
A print or embroidery wishes;
wish to order more than 100 pieces;
would like more information about these lanyards.
No specifications found